Custom wedding artwork drawn to order from £150
Ever thought of Caricature Wedding Invitations or Thank You cards? Looking for a witty Signing Board for your guests? Get your wedding day off to a flying start with these humorous wedding designs, drawn to your specification in black & white or full colour. Design prices start at just £150 for the classic pose, just choose from the sample poses below or suggest your own pose and composition. Extra items or people will cost extra.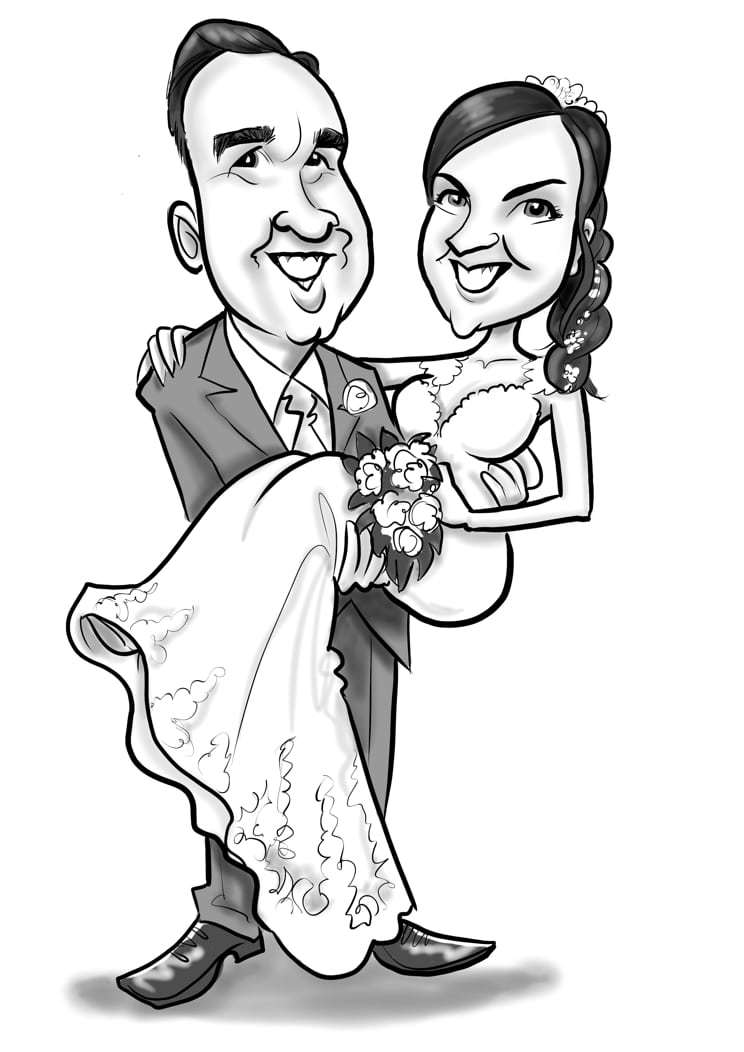 Monochrome classic pose £150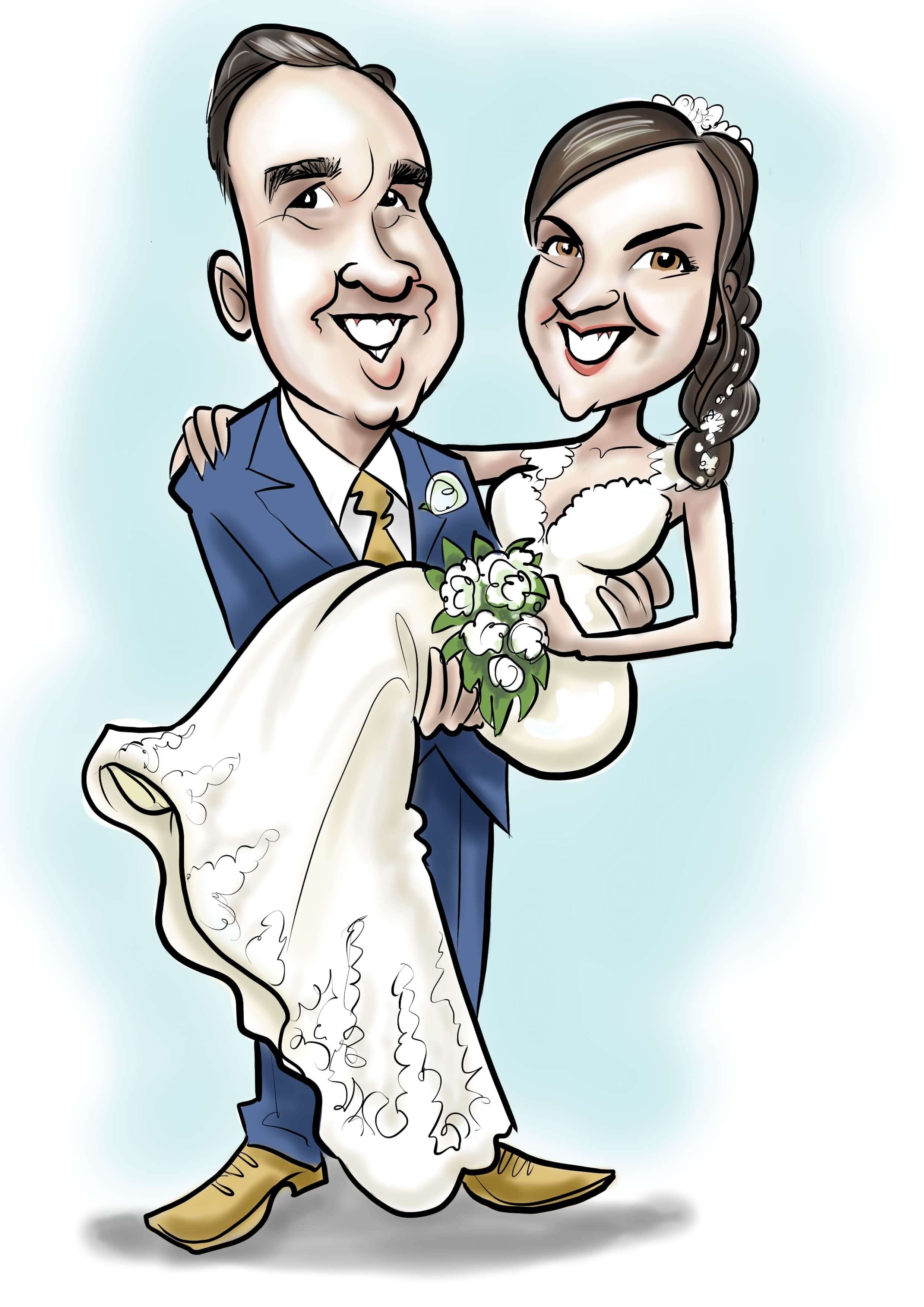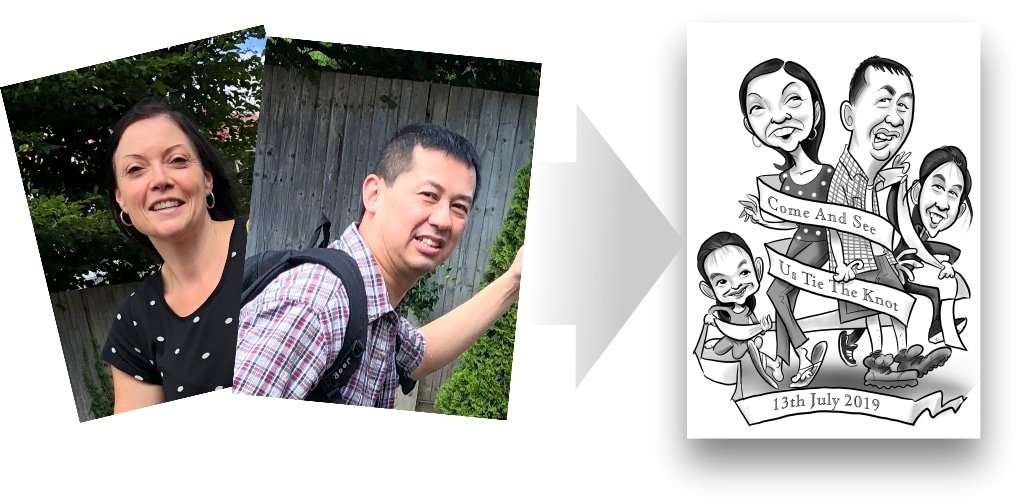 A2 Signing boards can be supplied mounted and framed from £220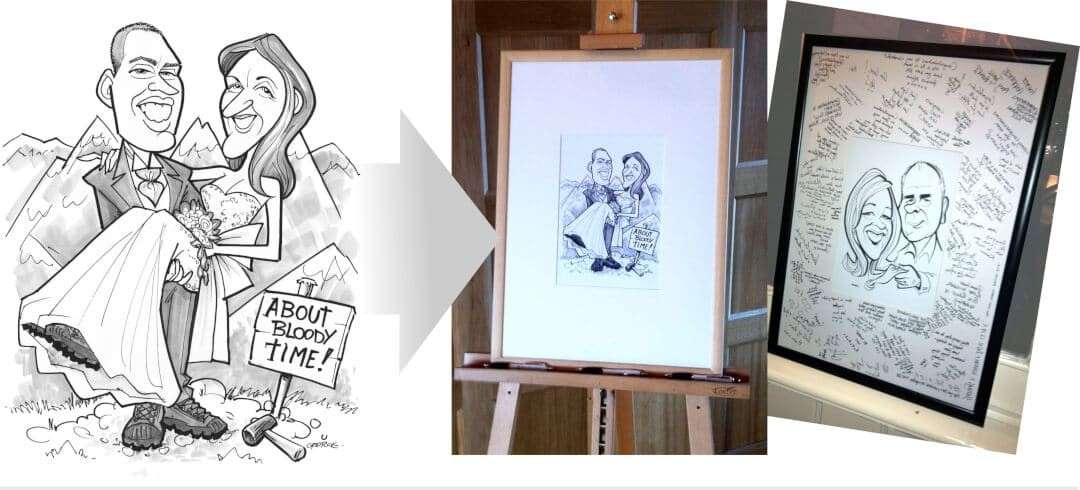 To Order…
1) Get A Price Quote – click link below with your requirements for a price from me
2) Pay Full Fee – please pay agreed fee for the artwork before I can begin drawing*
3) Email brief & photos – send 3 good photos plus pose instructions
Please e-mail your preferred pose and requirements (including hair, costume etc), together with at least three good sized photos of each person (eye colour must be clearly visible), different poses, including a group shot if possible. Remember; I can only draw what I see, so no sunglasses, hats or thumbnail size faces please. Full payment must be received before work can be commenced.
Terms
By commissioning my artwork, you agree to give me artistic license to hand produce a caricature with serviceable likeness, to the standard of above examples. This includes exaggerated features. Please be sure you want a 'caricature' and not a 'portrait' before commissioning. Finished artwork will not be undertaken until funds have been received, which are then refundable only to the point of draft approval. The fee covers up to 4 hours drawing, further alterations or additions to artwork may incur extra costs. Please allow 2 – 4 weeks for completion of artwork, to be supplied as either hard copy or JPG.
I can only draw what I see, dependant on the photos you supply, NO SELF EDITING IS ALLOWED.
NOTE – BY SENDING PAYMENT/PHOTOS YOU ARE HEREBY AGREEING TO THE ABOVE TERMS.
*Pre-payment is required, as a sign of commitment. Brides sometimes enlist several artists to produce the same artwork, then only pay for one (if any) afterwards, thus wasting the valuable time of many artists.